FLOOR CARE
Hotsy Equipment Company of Princeton offers floor care solutions that are easy to operate, efficient and clean large areas in a short amount of time. 
KM 70/20 C Walk Behind Sweeper
Speedy sweeping and painless maintenance rolled into one convenient package. These sweepers provide superior sweeping performance in a compact manual push sweeper. They're built to be rugged and durable for long life. 
30,000 square foot/hour
28 inch cleaning path
11 Gallon Waste Container
Weight 50.7 pounds
Dust filter
Adjustable push handle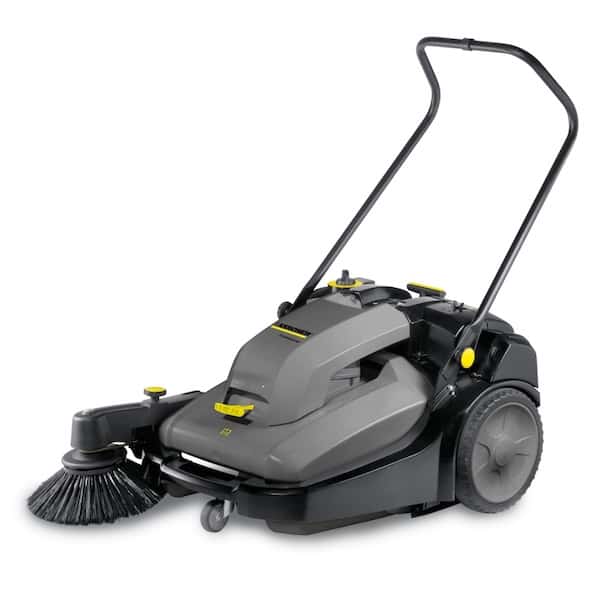 KM 70/30 C BP ADV Electric Sweeper
The extremely compact and efficient KM 70/30 C Bp Adv sweeps silently. Main roller broom and side broom with electric drive – cleans right into corners, suitable for indoor or outdoor use. 
30,800 square foot/hour
28 inch cleaning path
11 Gallon Waste Container
Weight 105 pounds w/o batteries
Electrical System 12V, 26 A/H
Adjustable push handle
KW 75/40 W BP Walk Behind Sweeper
Compact and agile, the KW 75/40 W Bp cleans small to medium sized areas with excellent results. With convenient traction drive and powerful vacuum system, available with silent battery powered motor. 
36,328 square foot/hour
Efficient filter system
Battery-powered
Weight 172 pounds
10.5 Gallon Debris Container
Why should a machine just be easy to operate, when it could be even easier. As well as safer and more convenient in many ways? With Karcher Intelligent Key and advanced EASY operation concept, the B C/W BP family offers a spectrum of safety and protection for operators, machines and your floors. 
Interchangeable Modular Heads
Dual orbital spin
16,000-23,680 square foot/hour
FACT technology
Six different cleaning programs
Designed to meet all your scrubbing needs without breaking the bank. The economically focused BD 50/50 C Classic Bp provides you all the cleaning power to take on large jobs easily. All controls have been simplified so any operator can quickly learn how to use this machine to perfectly clean your floors. This reduces training time and increases consistency between operators. For maximum flexibility we designed the brush and pad changeover to be quick and simple with an easy-to-use integrated T-bar handle. 
9,900 square foot/hour
20 inch cleaning path
180 rpm brush speed
48 inch waterlift
Weight 306 pounds w/batteries
The B 150 R can cover up to 64,580 square foot making this one impressively productive scrubber. Although it can cover large areas quickly, we made sure that it has great visibility for safety. Our KIK operating system and the color coded controls make operation simple and intuitive. KIK allows managers to control what functions and settings their employees can use and adjust. 
All-wheel drive
LCD screen
3.7 mph max working speed
Battery powered
72 inch waterlift
Message Us
Ask a Question or Receive a Free Quote at hotsyco@comcast.net